Course Description
Leaders across industries and sectors must contend with multiple megatrends that collectively create highly volatile, uncertain, complex, and ambiguous (VUCA) organizational contexts. Among the many trends directly impacting the requisite skills and competencies for today's leadership, four megatrends are paramount for shaping how current and future leaders should focus their personal development:
(a) the digital transformational, artificial intelligence (AI), and automation
(b) the multi-generational workforce and socio-demographic shifts
(c) COVID-19, climate change, and the likelihood of future extreme events
(d) the changing nature of work and organizations, particularly the advance of digital technologies and work-from-home policies accelerated via the pandemic.
Within the incredibly turbulent and complex context of these forces, leaders must focus their personal development on the most important competencies for driving organizational success. Students in this course will examine the specific leadership competencies that are most effective in VUCA organizational contexts. These leadership skills and behaviors are captured in the Strategic Leadership Competency Model, which includes 20 competencies across four pillars: Driving Results (strategic insight, innovating thinking, maintains focus on strategic priorities, results-orientation, and understands the business; Engaging Stakeholders (collaboration skills, communication skills, interpersonal skills, conflict management skills, and mission/values/purpose-driven); Leading Change (inspires others, leads organizational change, leader agility, performance feedback and coaching, develops talent); and Leading Self (exhibits self-awareness, seeks feedback, work/life balance, integrity, emotional intelligence). In addition to exploring the megatrends and their impact on workforce outcomes and business performance—such as new product and service innovations, the great resignation, and virtual work teams—students will complete the following:
(1) develop and articulate an individual philosophy of leadership that reflects one's personal values and leadership principles
(2) create a leadership development plan that outlines actions/tactics for enhancing competencies across four levels of leadership influence (leading self, leading teams, leading strategy, and leading change
(3) engage with fellow students in experiential activities (role-playing, simulations, and assessments) designed to generate greater insights on one's leadership strengths and development opportunities.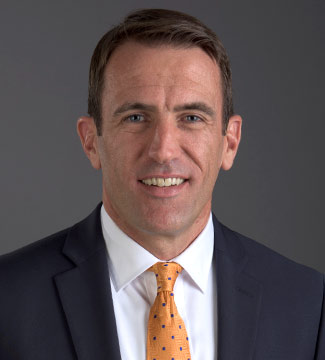 Kevin Groves, PhD
Professor of Organizational Theory and Management
Pepperdine Graziadio Business School
Biography
Kevin S. Groves, PhD is professor of organization theory and management at Pepperdine Graziadio Business School, and president of Groves Consulting Group, LLC. Dr. Groves teaches a range of graduate courses including organization design and strategic alignment, executive leadership, and talent management. He primarily teaches in the Graziadio School's MBA, MS in Human Resources, and Executive DBA programs at the Malibu and West Los Angeles campuses. Prior to his academic career, Dr. Groves was a management consultant in the Strategy and Organization practice at Towers Perrin (now Willis Towers Watson). Supporting organizations across industries, Groves Consulting Group develops evidence-based succession planning, talent management, and leadership development solutions anchored by rigorous research.
An active leadership and succession management scholar, Dr. Groves' research focuses on executive succession, talent management, and leadership development practices. He conducts national benchmarking studies, including the semi-annual Succession Management Survey, intensive case studies, and client-based research projects. His research has been published in leading journals such as the Journal of Management, Academy of Management Learning & Education, Group & Organization Management, Organizational Dynamics, and Journal of Business Ethics. Dr. Groves' recently published book (Winning Strategies: Building a Sustainable Leadership Pipeline through Talent Management & Succession Planning) offers executive teams, boards, consultants, and HR/OD professionals a practical framework and set of succession planning and talent management best practices.